Today I am participating in Booking Across The USA, a project to spotlight children's books each of the 50 states. Each post will also give an activity your child can do to go along with the book. (The list of all the participating blogs is at the end of this post.)
We chose New Jersey. We go to the Jersey shore every year, and one of our favorite spots is Cape May. At the tip of Cape May is Sunset Beach, where we comb the sand looking for Cape May diamonds, pieces of quartz smoothed by the waves. On our first trip there, we also discovered The Legend of the Cape May Diamond 
by Trinka Hakes Noble.
This book traces the journey of the stones from the Appalachian mountains, down the Delaware river, journeying through the state and being polished into the eventual Cape May diamonds. The stones, as the book recounts, were given as gifts of true friendship by the Leni Lenape tribe, who lived in the region and on the land that became known as Cape May point. As the book states, little beachcombers visting Cape May point today can still find these diamonds, and share them as gifts of true friendship.
Make Your Own Diamond Hunt
For our activity I got out our stash of seashells and stones collected from hours and hours of beach combing and put them into a sensory bin. I crumpled some aluminum foil into small balls and added those to the bin.
The foil balls were the "diamonds" that my kids would search for in the bin. You can't see through them the way you can see through Cape May diamonds, but they did sparkle!
As we ran our fingers through the smooth stones and shells, we talked about how the waterand the other stones in the water bump into the rough quartz, buffing it and turning it in to the smooth "diamonds."
Even though it's still winter here, it was nice to take a beach break. And the boys had fun collecting their "diamonds."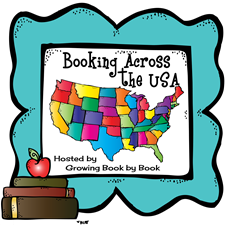 For a complete list of all the activities, check out the main Booking Across the USA page!
Thank you for stopping by! For more play times full of laughter and learning, please subscribe, or join us on Facebook or follow along on Pinterest.